Please follow and like us:
In the game of entrepreneurship, it has been said many a time that it is not for the faint hearted, nor is it a game for the chosen few. Founders can come from every type of industry, background or age group, and 32 year old Njeri Ngige is one such person who beat the odds and launched a successful company that allows her to utilise her God given talents and passions.
Born and bred in Nairobi, Njeri is the last born in a family of four. Growing up she was quite shy and as a result, her adventurous life was based solely around the activities of her older siblings. She followed her first born sister everywhere as her life looked attractive enough for Njeri to notice. Her older sister would spend most her time in church, crusades and rallies. Njeri enjoyed them immensely and her sister never minded tagging her along. Thus Njeri was exposed to the gospel of Christ at a very young age. To date she is forever grateful as this has remained a solid foundation in her life. It is the core of the person she has become today. For her schooling, Njeri attended Our Lady of Mercy in Shauri Moyo for her primary education, and later joined The Mary Leakey Girls Secondary School. Then she took a gap year from education to figure out her life and what she wanted to do. After her hiatus, she enrolled at the United States International University – Africa (USIU) where she studied International Relations. From there Njeri started applying for work in the Government. She really hoped to get a stint at any Government office, as her parents had served in the same capacity. She also happens to be a firm believer in service to the government, God and humanity. However as fate would have it, she didn't get any government job.
Nature's Nontle – The Journey
Seven years later, when Njeri found herself broke, without work and with a lifestyle that needed adjusting, she realised it was time to make a change. The first thing that she did was to go natural. Her chemical hair had become an expensive venture, one that she could not afford anymore. She also began to teach herself about photography and social media through YouTube videos. If she was not getting work, then she was going to create her own opportunities, as she was very aware that time waits for no one. That is how Nature Nontle's was born. The company has three sides to it: natural hair products, made by Njeri; a photographer for hire to capture your special moments and a digital media strategist for companies struggling to have an online presence in our ever changing digital world.
Three generations of naturals: Njeri Ngige (far right) with from left mother Mary Ngige, sister Terry Njeru and niece Zawadi Njeru.
When Njeri begun her hair journey, the natural hair wave had not captured many Kenyans as it has today. As a result, there were hardly any salons offering services for the same. For a while Njeri struggled to maintain her newly acquired hairstyle. As one who spent most of her time online, she used it to research on how to care for natural hair, what products to use, which ones to void, etc. Slowly but surely she begun to carve her own niche in the natural world. Njeri had no idea by then that her brokenness would birth out her very destiny. She couldn't have known, because even then, she still kept applying for jobs in government organisations hoping that eventually she would be hired. Five months into her new found journey, Njeri saw an opportunity. She had been using bar soap on her natural hair, much to her brother in law's shock. Therefore she decided that she would produce products for natural hair, and began researching on the same. She relied heavily on blogs and natural hair communities and learned as much as she could about maintaining natural hair. She began by experimenting her product formulae on her mother and her sisters. She had developed a hair treatment for natural hair and after a few unsuccessful attempts, she was sure she had nailed the formula. She produced a few samples which she gave to her friends for review. They in turn shared her treatment with their other friends leading to a domino effect. Due to the number of orders that kept streaming in, Njeri decided to start a company for natural hair products and months later she launched "Nature's Nontle". The word Nontle is of a South African origin and it meaning beauty. Given her love for the natural, Njeri's ultimate viewpoint on all things beauty comes from nature; so she found it befitting to name her company just that.
Eventually the natural hair wave hit Kenya, and Njeri was glad that she was caught in the wave and is riding in it. She recently attended the Hairtage Festival and her hair treatment was a complete sell out. As she looks back, she realises that her business started itself literally. She is eternally thankful to God and her friends for this.
On Growth, Challenges and Success
Social media and word of mouth have played an important role in Njeri's marketing strategy and attending "hair festivals" has been helpful. However she acknowledges the need to do more events and more intense social media marketing and also to do mainstream advertising in both print and TV. Her biggest challenge has been and still is finances. For the nature of her business, the capital is intensive. When she began she put all her savings into the business. Recently she partnered with her sisters who also put in their savings to keep the business afloat. Currently plans are underway to go into the retail market to ensure that their products are easily available to their clients. Being a 100% natural, the products have a short shelf life. With this in mind finding a workable preservative that is food grade, will not change the PH of their product and keep the formulation intact has been a challenge. However, they have made good strides in this and soon their products will have a shelf life of a year.
Her team comprises of her big sister Terry and herself. Terry Njeru doubles up as the research, productions and operations manager. She is a wonderful, bubbly woman, a proper life of the party who makes you comfortable around her like you have known her for years. Terry is also a wife and mother of three amazing human beings. She is passionate about natural products and works towards bringing out the best their products can offer. Njeri and Terry are the greatest of friends and half the time, they laugh as often as they speak. They are happiest when they receive feedback from clients. They love to discover ways to be a better brand and offer better services to their clients.
When challenges come, Njeri has learned to battle on her knees. This has been her biggest uplifter and as a result, they are very positive and optimistic people.
As we come to a close of our interview, it's hard not to admire Njeri. Starting a company is never easy, let alone creating a product from scratch. Yet she makes it sound simple, fun and easy. I can't help but ask what her biggest lesson learnt has been; to which she responds "Keep pushing. Don't stop no matter how bleak it looks. Hold on, it will get better. And turn every turmoil into a lesson." As she looks back, she appreciates her entrepreneurship journey. The saying "You never know how strong you are, until being strong is the only option" rings true for Njeri. For the journey has stretched every area of her life a she juggles priorities and keep her clients happy. Before then she had never really realised her own capacity. Where does she see herself in the next five years? "In the next five years I would love to see Nature's Nontle as a household name, not only in East Africa but the greater Africa and the world. To be able to see everyone use our products and have healthy thriving hair and skin." And to budding entrepreneurs she says, "It may be hard, no one may seem to understand your struggles but keep the faith. The sky is blue enough for all of us. Don't be too uptight, you will snap. Find someone to speak to and just let off the pressure. It will help you and your business."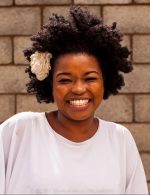 Did you enjoy this story? Post a comment below and on our Facebook page or Twitter #MKAZINjeriNgige
We like to hear from you.
Contact  Nature's Nontle
Comments
Comments