When Joan got a call from Swift Global Company back in 2004, she was excited. Having graduated from campus with a higher diploma in computer science, she was out for the hunt to become the best systems administrator ever known to man. She had taken her CV to the company and the administrator was kind enough to offer her a position, as she thought it best to keep busy as opposed to staying at home waiting for other employers to respond. It so happened that the only position they had available at the time was that of a tea girl. However, after discussing the matter with her father, being a daddy's girl and all, he encouraged her to take the job which she did. Joan served as the company's tea girl for six and a half months before another opportunity arose within the organisation.
The personal assistant to the Managing Director was due for maternity leave, and they needed someone to fill in the position in her absence. Looking around they settled on Joan, for she was a part of the team and she somehow knew the inner workings of the organisation. She held fort for four months and when her time was up, the company chose to offer her a more administrative role where she handled the day to day running of the organisation and procurement matters. In the fourth year at the organisation they absorbed her into the company and she joined the network operations team as a data systems administrator, like she had always hoped. This happened to be at the same time that the famous BlackBerry phones were a hit. Eager to learn, Joan put her best foot forward. As a result she won an in-house award as the best in the network operations department that year. However in 2009 the company was sold off. With a new management in place and the myriad of changes that came with it, she left. That same year she got an offer from CallKey Networks, where she served for another six years, in both the customer service and the network engineering department.
#SpiceGirl – The journey
The entrepreneurial spirit gripped Joan in small doses. Although somewhat misguided, the motivation to be her own boss and leader was always there even when she was working as a tea girl. But she knew that sometimes if not most, opportunities do not always present themselves; you have to make them yourself. She began by making food snacks and selling them in the office. Every week her snacks were a sell-out. Two years later she started to think beyond the office and began looking for events where she could set up her own food stand and sell her homemade snacks. Soon an event captured her attention and within minutes of talking to the organisers, they looped her in, and she got a food stand. Excited, Joan went home to plan. Her partner was more than happy to support this venture, as he has always been supportive of all her ideas, no matter how unorthodox they sounded. Putting aside Ksh.25,000 for the venture, Joan set out to buy lots of produce and spent the whole night preparing all kinds of snacks for sale at the event. After toiling all night, the event turned out to be a nonstarter. It was poorly attended. Joan was horrified to say the least. As she went back home that day with all manner of snacks and struggled to refrigerate all the food to avoid it going bad, she also froze the food business dream never to venture into it again.
In 2008, her fourth year of employment, Joan began making chili for friends and family. Her purpose had been to make chili for her partner, as preparing it daily had become a mundane task, whereas she was not exactly a chili person. Researching on the internet on various recipes, she finally found one that she liked, and with a few mixes of her own, Joan had created her own homemade chili. And her partner loved it. Joan knew her venture was worth starting when a co-worker after sampling her chili immediately ordered a kilo and chided her to try and sell it to the market. After her horrendous food experience, she was hesitant but eventually she gave in. Having learnt from experience, she only made the chili on order and did not make more than requested. For six months, she was known as 'The Chili Lady'. Her passion and drive resulted in the successful launch of The Vine Eateries, her very own company of which she's the Founder and Director. It was in 2014 that Joan ventured into the wonderful world of spices.
Sales Rep Sharon manning The Vine Eateries' table at WeCreate Market. Photo courtesy of The Vine Eateries.
Having decided to do this full time, she hung her employment boots and with her savings and the money that was coming in from the homemade chili sales, she set out to do her spice business. Joan decided on launching her own business because she wanted to ensure the quality and content of the ingredients for making spices and she was willing to invest her time, energy, and money to watch her company grow. She did a lot of research, both online and in the market, on what it would take to get started, and she tested out products that she was interested in mass producing. She credits The Vine Eateries' success to her willingness to be open to opportunities and her commitment to high quality products without compromise.
Related article: 4 Spices You Need a Daily Dose of
Joan made her debut into the market by doing a boot sale. Later on for her second bigger and better boot sale, she partnered with a lady who was willing to walk with her and mentor her in the business. To date, Joan credits her dearly for how far she has come in the spice industry. Wangeci Wandere is her name.
Joan had added a spice rub to her product range when she met Wangeci Wandere of African Kaya and shared her vision. Wangeci was kind enough and ready to help Joan in any way that she could. It was Wangeci who told her where she could get glass jars as she had been looking for them to no avail. Previously she had been using plastic jars for her chili with handwritten labels. With the help she got along the way, she upgraded to glass jars with proper labels as well. Through her partnership with Wandere, she did her second boot sale where she and Wandere shared a table and together sold off their products.
During the boot sale, Joan remembers just making a few jars. She was still a newbie in the market, and she was not sure how people would perceive her spices. So she did 20 jars and she sold 17. This gave her the confidence that the market was willing to try her products, even though the competition is fierce. That year, she began to market her products in small doses. By the time the year was coming to an end, she had formed a partnership with Manor 540 as their official spice provider. In 2015, in partnership with Wangeci Wandere once more, she participated in the Kilimani Food Festival, where she introduced a new product, a BBQ spice rub. Much to her amazement by the end of the event the rub and sauces were sold out. For the next three months, through referrals, she had monthly orders from customers all over.
On growth, challenges and lessons learnt
By the beginning of 2016, Joan had doubled her spice range product to 17. She was gunning for the top and there was no stopping her. "You need to continue re-inventing in yourself," she says. And as it is, all her products are KEBS certified. To start her company, Joan had only used Ksh.4,000, her target niche being the hotel industry with the aim of delivering 2kg – 3kg of her spices per day, and of course the everyday consumer. For her marketing Joan uses social media and word of mouth. She uses a courier service for deliveries. Her team comprises of two sales people- one part time and one full time; a marketer and a courier person. She believes that with time, she will be the go to spice girl for all your kitchen spice needs.
To fellow entrepreneurs, Joan advices to "have a good support system of people who keep you accountable and encourage you especially when business is slow. More importantly, trust in God, believe in yourself and dare to dream big". This she believes has helped her in her journey as there were times she felt like giving up, but those around her kept her going. They would even buy the spices to encourage her.
Joan is a mother of one beautiful daughter, who she calls her rock and who reminds her daily why her spice business in important. Her favourite book of all time, and one that she definitely recommends to everyone in business is Business in Blue Jeans by Susan Baroncini-Moe. Not only did this book shape her business and how she does it, but it also gave her the leap she needed to achieve her business goals. In her free time, and to unwind, Joan likes to read inspirational stories and books, walking and hanging out with her friends. Every day as she leaves the house, she aspires to be a blessing to someone else through her actions and interactions. In 5-year time, Joan envisions her company exporting spices to other countries and being a renowned brand in the spice industry.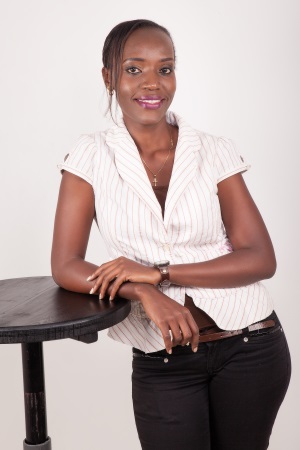 Did you enjoy this story?
Post a comment below and on our Facebook page or Twitter #MKAZIJoanWanjiku
We like to hear from you.
Contacts The Vine Eatery:
Mobile: +254 (0) 713298870
Save
Save
Save
Comments
Comments