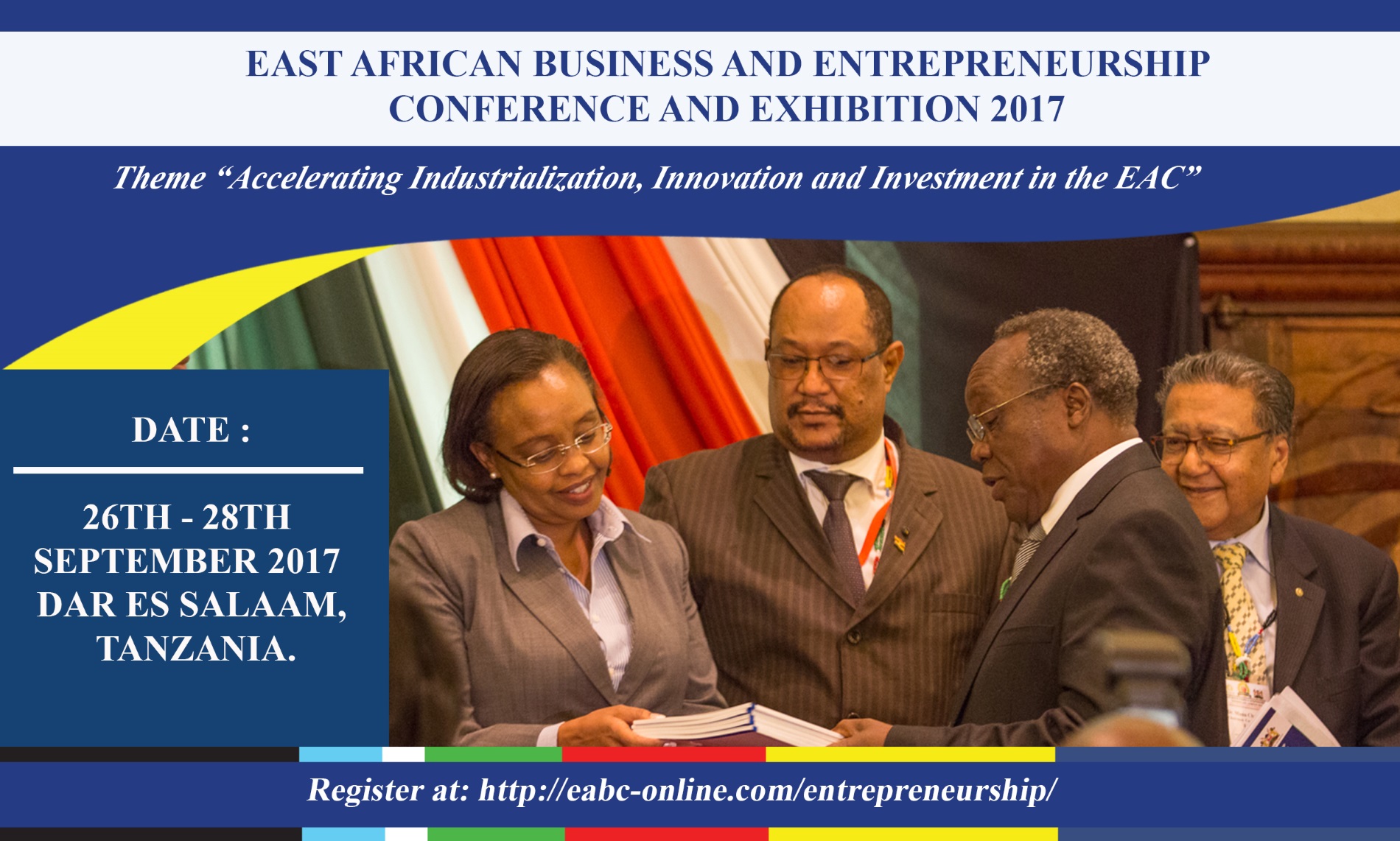 East African Business and Entrepreneurship Conference & Exhibition 2017
September 26

-

September 28
Event Navigation
Please follow and like us:
The second edition of East African Business and Entrepreneurship Conference & Exhibition themed "Accelerating Industrialization, Innovation and Investment in the EAC" will be held from 26th to 28th September 2017 in Dar es Salaam, Tanzania. It is co-organized by EABC, Tanzania Investment Centre (TIC), Tanzania Private Sector Foundation (TPSF) and the East African Community (EAC).
The three-day conference will bring together high-level government and private sector decision makers from the EAC Partner States as well as entrepreneurs and investors from the region and abroad. Visit: http://eabc-online.com/entrepreneurship/
H.E. John Magufuli, President of the Republic of Tanzania will be invited to grace the official opening ceremony of the East Africa Business and Entrepreneurship Conference and Exhibition.
This year, the sector highlights are quite diverse to attract a unique mix of creative people from diverse entrepreneurial sectors in order to encourage an innovative exchange of experiences and views from different angles and background and inspire them to "think out of the box". The approach of "design thinking" aims at reflecting on the cross cutting issues in regards to the implementation of the common market protocol and promoting regional integration by referring to the common cultural identity. In addition, the East African Diaspora will be strongly engaged to amplify investment into the region. The simultaneous exhibition will give participants the possibility to present themselves and serve as points of contact for their organizations and businesses. Furthermore, EABC through its Observer Status with the East African Community (EAC) will follow closely the implementation of the recommendations that will arise from the conference, in order to improve the business environment in the EAC.
Register your attendance at: http://eabc-online.com/entrepreneurship/
Comments
comments
Comments
comments